2017.11.08 Wednesday
Guy Fawkes Day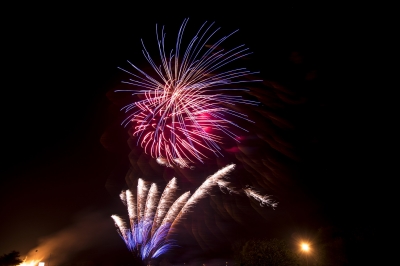 Hi everyone,
It's Daniel here. Maybe you've seen me on the wall some time.
Today I want to tell you about a special day we have in New Zealand called Guy Fawkes Day.
Guy Fawkes Day is an old English event celebrated each year on November the 5th. Friends and family get together and let off fireworks. Some families light bonfires and enjoy food and drinks.
Many families celebrate at home letting off fireworks in their backyard but there are also large public fireworks displays at schools, parks and stadiums just like Japanese fireworks festivals.
Guy Fawkes Day is fun but we have to be careful that children don't injure themselves playing with fireworks. And we should be considerate to our pets on Guy Fawkes Day, especially dogs, who have sensitiive hearing and hate the noise from the fireworks.
Japanese fireworks displays are even more spectacular than Guy Fawkes Day.
Do you enjoy fireworks? Tell us about it the next time you're at school.
Daniel