2018.01.04 Thursday
Trip to Hakodate
Hi everyone!
How were your holidays? Did you go anywhere? I went to Hakodate.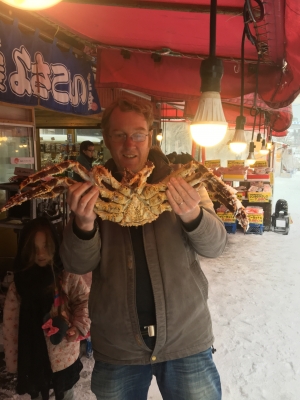 Hakodate was fun! My family and I had a great time.
The people were friendly and the food was delicious. We visted the fish markets, went to some beautiful shrines, and had an outdoor hot bath in the snow. We saw the Star Fort illumination at night, had hamburgers and milk shakes at Lucky Pierrot, and even went to a special museum for the singer Saburo Kitajima.
There was a snow storm while we were in Hakodate but I was excited because I love snow. We don't have snow in my hometown so any time it snows I get excited. But the wind was so strong it blew my glasses off!
I'd like to go back to Hakodate someday and enjoy the food again.
What did you get up to?