2018.01.22 Monday
❄️Winter Wonderland!!❄️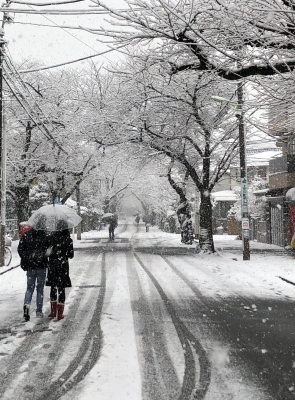 -taken by Daniel at Kamikitazawa
❄️It's the first snow fall of the winter season in Tokyo!
❄️Are you bundled up and warm?
❄️Have some tea, or hot chocolate!
❄️It is the best time to do indoor crafts and reading
with you little ones.
❄️Would you like some ideas?
❄️Here's an idea!
What you will need:
white paper

kids scissors
You can help them make lines on a piece of paper to cut out and then,
hang them up on the window/s. They will love it!
* With childern under the age of 3, they can color the paper and
you can cut the paper into snowflakes for them.
Have them try to hang them up or stick them on the window with tape. :)
Enjoy the snow! Stay safe and warm!