2018.08.01 Wednesday
Okutama camp
On Monday and Tuesday I went to Robin Hood Camp in Okutama.
Okutama is a beautiful place. Sometimes it's hard to believe that such a beautiful place can be so close to Tokyo.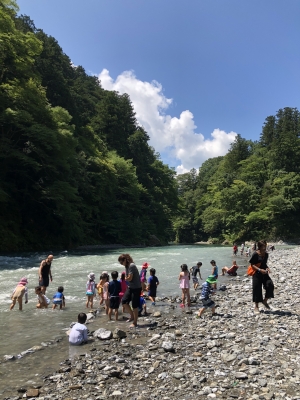 This year we couldn't swim in the river because of the typhoon. There was so much rain that they needed to release the dam. This made the river higher and faster than usual and too dangerous to swim in.
But we found a good spot near the water's edge and had fun anyway. That's what camping is all about! Making the best of whatever situation you find yourself in.
I had a lot of fun playing with the kids from Kami-Kitazawa school. I enjoyed meeting the Saturday students who I don't usually see. I also enjoyed making friends with the kids from other schools.
Even though we couldn't swim in the river this year we had a great time. Thanks to everyone who came on camp with us. If you haven't been yet next year is your chance to try.
Don't be shy! It's a lot of fun and a beautiful place to stay.
Daniel