2018.09.12 Wednesday
The Morning Glories bloomed!!
Finally, after months of growing, the Morning Glories have begun to bloom!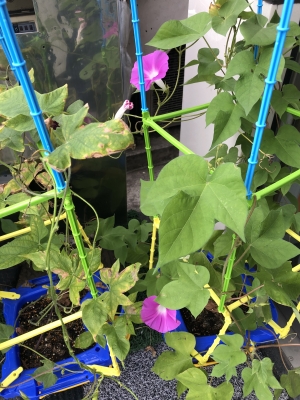 I was worried they wouldn't bloom since it's nearing the end of summer.
We planted them in late July, which was a bit too late, but Morning Glories have a habit of blooming later in the season and it's not uncommon to them in August and September.
Yesterday, there were three flowers and today there were five!
Thanks to everyone who watered the plants. You guys did a great job!
Don't forget to count how many flowers you can see each morning. There are purple flowers, blue flowers, and dark purple ones too. The dark purple flowers have white star shapes.
Make sure you check them out each morning.
Daniel