2018.10.31 Wednesday
Darth Vader
Happy Halloween everyone!
Did you have a fun time trick or treating? Make sure you brush your teeth after you eat your candy.
I saw many wonderful costumes at the Halloween parties. There were vampires, witches and minions. And princesses, unicorns and black cats. I even saw Thomas, and Mickey, and a Keio Line driver. But do you remember my costume?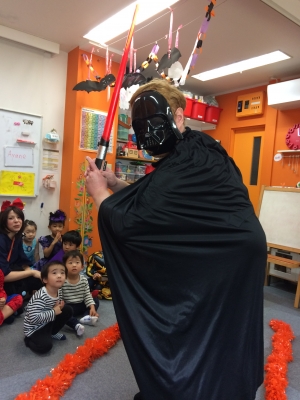 That's right, I was Darth Vader!
When I was a little boy, I was crazy about Star Wars. I had many Star Wars toys and action figures. I had a Star Wars lunchbox and Star Wars bedsheets. I even had a Star Wars Read-Along book with a tape cassette that I listened to every day. When R2 D2 beeped, it was time to turn the page!
Halloween was fun for me this year. I got to relive a big part of my childhood.
Here are some pictures of me as Darth Vader: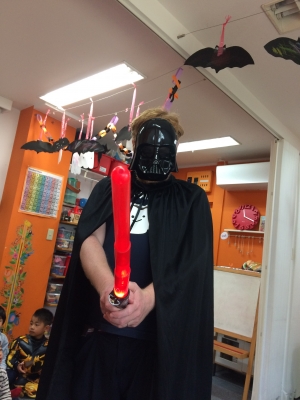 "If you only knew the power of the Dark Side."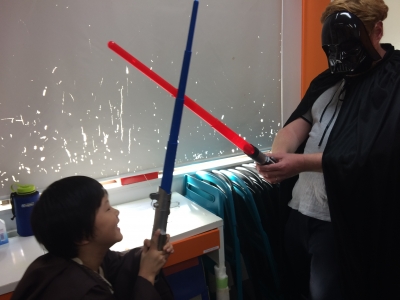 Battling Obi-Wan Kenobi.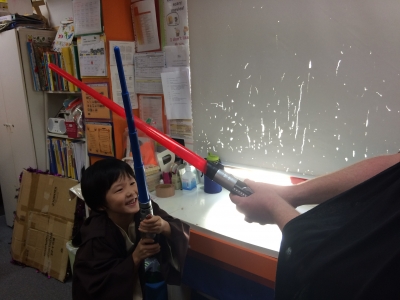 In the movie, Darth Vader kills Obi-Wan but this kid was having none of that. He even tried to slice Darth Vader's legs off!
What will I be next year? Maybe another Star Wars character? How about Jabba the Hutt?!
Have a great Halloween everyone,
Daniel