2018.12.05 Wednesday
A Movie Review from Grade 5 Writing Class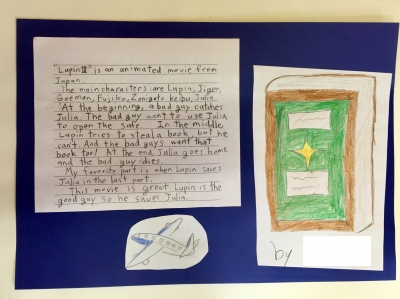 "Lupin III is an animated movie from Japan. The main characters are Lupin, Jigen, Goemon, Fujiko, Zenigato Keibu, and Julia. At the beginning, a bad guy catches Julia. The bad guy wants to use Julia to open a safe. In the middle, Lupin tries to steal a book, but he can't. And the bad guys want that book, too! At the end, Julia goes home and the bad guy dies.
My favorite part is when Lupin saves Julia in the last part.
This movie is great. Lupin is the good guy, so he saves Julia."
This sounds like an exciting movie! I hope I can watch it someday.
-Jake